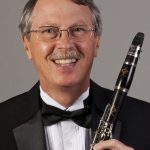 Keith Koons
Keith Koons joined the UCF Department of Music in 1990. A native of Maryland, he holds degrees from the University of North Carolina, Chapel Hill (BME), the Manhattan School of Music (MM) and the University of Southern California (DMA). His primary teachers include Thomas Silliman, Mitchell Lurie, Leon Russianoff, Robert Genovese and Donald Oehler. His teaching areas include graduate and undergraduate clarinet performance, woodwind chamber music, and woodwind techniques.
Dr. Koons is a frequent recitalist and chamber musician, often featuring new music and premiere performances. He has held the position of Principal Clarinet with the Brevard Symphony Orchestra in Melbourne, FL since 1992, and also performs with the Orlando Philharmonic Orchestra. Recent world premiere performances include Passage to Petra by Michael Daugherty, Three Impressions by Ney Rosauro, and Spectrum by Howard Buss, all written for Dr. Koons.
He has performed or presented at conferences of the International Clarinet Association in Chicago, Ohio, Utah, Belgium, Portugal, Texas, California, Nebraska, Italy, and Louisiana, national and regional conferences of the College Music Society, the National Association of College Wind and Percussion Instructors, the National Flute Association, the International Double Reed Society, the American Musical Instrument Society, the North American Saxophone Alliance, the European Clarinet Association and the Oklahoma Clarinet Symposium.
He has held several leadership positions with the Southern Chapter of the College Music Society, and served as President from 2003-2005. He is a longtime member of Toastmasters International, and has achieved the recognition of Distinguished Toastmaster, the organization's highest award.
Dr. Koons formerly taught in the public schools of Maryland and at Arkansas Tech University. After previously serving as Interim Chair of the UCF Department of Music, he is currently Professor of Music, Graduate Coordinator and Associate Director of the School of Performing Arts. He has developed and sponsored the annual UCF Clarinet Day, featuring guest artists from the United States and abroad.
Dr. Koons served from 2008-2014 as President-elect, President, and Past President of the International Clarinet Association, the world's largest clarinet organization with more than 3500 members in 80 countries. He was the founding Chair for 13 years of the ICA Research Presentation Committee, and also served the Association as Research Coordinator and Library Liaison. In the future, he will serve as Artistic Director of the 2017 ICA ClarinetFest® in Orlando.