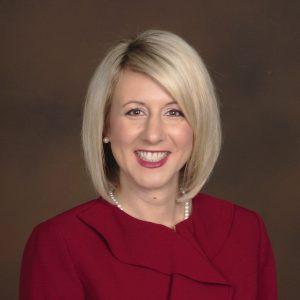 Karen Monteleone is an accomplished higher education professional with extensive experience in board governance, volunteer and event management, and alumni engagement. Karen began her higher education career at the University of Central Florida (UCF) Alumni Association serving in several capacities, including membership program management, marketing, student development, and the oversight of alumni relations programs for three colleges.  This experience led to her role as the Director for Foundation Board Relations and Development, where she served as the liaison between the UCF Foundation Board of Directors, the Foundation CEO, and all university boards and constituencies. Karen worked closely with the executive leadership of the Foundation to develop fundraising strategies and stewardship programs for major and principal level donors.
Currently, Karen serves as the Assistant Vice President for Board Relations, leading the Board Relations Office for the university Board of Trustees. She has oversight of all board operations and assists in developing strategy for the board's effective operation and engagement based on industry best practices for public higher education governing boards.
Karen holds a bachelor's degree in advertising and public relations and a master's degree in educational leadership from the University of Central Florida. She is also a graduate of UCF's Leadership Empowerment Program.