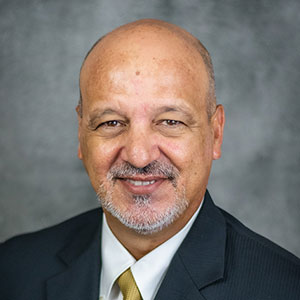 Paul Dosal joined the University of Central Florida as the inaugural Senior Vice President for Student Success in July 2022.   In this position, he is responsible for Enrollment Management, Student Success and Advising, Career Readiness and Experiential Learning, Student Life, and Health and Well-Being. He serves as the university's champion for creating and sustaining an integrated, comprehensive, and intentional student experience that ensures all students who start at UCF can finish at UCF.
Prior to his appointment, Dr. Dosal served in a similar role at the University of South Florida from 2010 to 2022.  During that time, he led a collaborative movement that generated remarkable gains in undergraduate student success, most notably the four- and six-year graduation rates, and narrowed or eliminated achievement gaps by race, ethnicity, and socio-economic status.  His first administrative experience at USF came as the founding Executive Director of ENLACE Florida (now the Florida College Access Network, or FCAN) which promoted college readiness, access, and success for under-represented students across the state.
Dosal is also a Professor of Latin American History, specializing in the modern history of Cuba and the Caribbean region. He is the author of four books, including Comandante Che, a study of the military career of the legendary Latin American revolutionary Ernesto Che Guevara, and Doing Business with the Dictators, a history of the infamous United Fruit Company in Guatemala in the early 20th century.
Born and raised in Tampa, he is a fourth-generation descendant of Cuban immigrants who settled in Ybor City in 1889. He earned his B.A. in International Politics at St. Andrews College in Laurinburg, North Carolina. He received his M.A. in Latin American Studies and Ph.D. in History at Tulane University in New Orleans. He earned promotion to Associate Professor at the University of Massachusetts at Amherst and promotion to Full Professor at the University of South Florida.