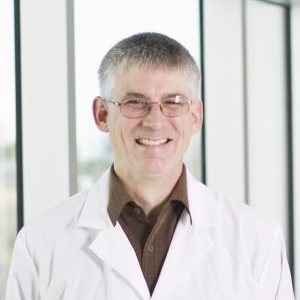 Stephen J. King chairs the UCF Faculty Senate.  King is an associate professor in the Neurobiology Division of the Burnett School of Biomedical Sciences in the College of Medicine.   He earned his BS in Biological Sciences at Cornell University and his PhD in Molecular Cellular and Developmental Biology from the University of Colorado, Boulder.   He was a postdoctoral fellow at The Johns Hopkins University before his first faculty position at the University of Missouri-Kansas City.  He came to UCF in 2011 to expand his research capabilities into the study of human neurodegenerative disease.
King's courses at UCF all move beyond standard lecture techniques to better impact student learning.  He developed and teaches Experimental Molecular Cell Biology, which trains promising undergraduates in aspects of modern cell biology research and links classroom teaching with disease relevant experimental procedures.   He also teaches the Group Effort Applied Research (GEAR) to undergraduate students.  GEAR is a research-intensive course that provides students a hands-on research experience for a semester as the entire class works on different aspects of the same research topic.  His graduate courses teach critical thinking skills to MS and PhD students as the students assess and discuss recent scientific literature.
King's research has focused upon how cellular motor proteins move and transport cargoes inside individual cells in our bodies.  His dissertation determined how green algae regulate flagellar motor proteins to swim towards light for efficient photosynthesis.  His postdoctoral work discovered a novel mechanism used by cytoskeletal motors to move long distances inside cells.  In his own lab, he characterized the molecular motor dynein, including a study that discovered dynein is the smallest molecular motor that includes a gear mechanism.   When he moved his research laboratory to UCF, he began studying a dynein mutation that causes the human neurodegenerative disease CMT.  CMT is the most common peripheral neurodegenerative disease in the US and worldwide.  His lab designed and bred a mouse model of CMT that expresses the same exact mutation that is found in humans.  Recent work from his lab has studied this mutant CMT mouse in the hopes of understanding the underlying basis for the disease and developing future therapeutics.
King was part of the College of Medicine Faculty Council leadership team for three years before being elected to the UCF Senate.  Since joining the Senate, he has chaired the Senate Personnel committee (5 years), chaired the Senate Health and Safety Committee (2 years), been a vocal vice chair of the Senate, and been an active member of numerous other UCF, College of Medicine, and departmental committees.  Professor King lives in Orlando with his wife and has three adult children.